Hi everyone and happy Tuesday!
Today I would like to welcome Patricia Hall as my guest blogger. She brings us a bouquet of floral inspiration. 
Welcome Patricia!
Flowers are among the most beautiful aspects of the natural world. When they burst into bloom, it's as though a rainbow is spreading itself across the ground for all to see. Vibrant yellow daffodils and dandelions, silky white lilies, pale blue forget-me-nots, purple lilacs... The list goes on and on. Of course, location determines the types of flowers that one will see to some extent, though it is always possible to bring in flowers that are not native to one's geographical area. For those who don't have a green thumb, this may not be an appealing option. Fortunately, it is not the only way to enjoy these flowers. Another great way is to incorporate them into the design of the interior of one's house.
Artistic Flourishes
For those who are artsy, one terrific possibility is to paint a favorite flower on the walls. For instance, a person could paint sunflowers snaking up the sides of the walls. They could even become the cornerstones of a mural. First the sunflowers, then the grass, then the sky with birds flying in it and the sun shining down... Before long, there's a whole scene on full display, and visitors can marvel at the artistry of this sunflower fan. One can do this with any type of flower, though some varieties may be more striking than others. Another idea is to purchase flower decals and place them on the walls or furniture in an organic fashion. This does not require any particular artistic talent, so it's a nice alternative for those who aren't accustomed to spending much time among paints and brushes. Depending on just how prominent one wants the flowers to be, hanging paintings of those flowers on the walls might be a reasonable option. So might laying down a rug featuring these particular blooms or getting cloth versions of the flowers and placing them in vases around the house. There are all sorts of different ways to express fondness for certain flowers, and any of them can make a house a brighter, more welcoming place.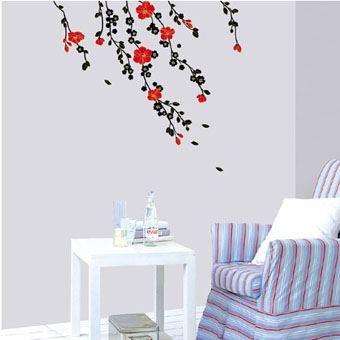 Live Flowers
Of course, one can always put real flowers inside of the house as well. These blooms can be nurtured just as they are outside, but in pots and other enclosures rather than out on the lawn. It can feel less intimidating to tend to a small plant than to a whole garden. Even a single pot of flowers can make a home feel much cheerier, particularly if it is a type of blossom that means something special to the people who live there. Items like hanging baskets and hand-decorated pots can help give the flowers an even more attractive look.
Those who love the look of live flowers but don't want to worry about maintaining them for an extended period of time can always buy flowers frequently, especially if money is not an object. Yes, purchasing bouquets of flowers can become expensive, but free delivery flowers cut down on the expenses related to professional flowers. Buying flowers from a professional florist ensures the quality of the blooms, and all you have to do is make sure they are sufficiently watered. You might be able to stretch out their lives for well over a week. Most people won't want to do this constantly, but it's a great plan for times when guests are expected.
No matter how one decides to do it, incorporating flowers inside of the home is a lovely way to add a touch of outdoor beauty to an interior space. With so many options for sprucing up a house with these sprightly reminders of nature, there's no reason anybody who loves flowers can't make them a part of their decor.
About the Author
Patricia Hall works part-time for Serenata Flowers an online florist in UK and loves to surround herself with flowers at any given point of time. Even in her free time she loves to involve herself with everything flora and fauna. 'To me there is nothing more beautiful and global as the language of flowers - it is the easiest to understand all around the world in the same way. That is one reason why I truly admire flowers for what they represent in some ways - unity of all mankind!'
click on images for the source.